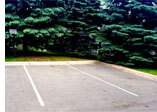 One of the many nice attributes our homeowners enjoy is the ability to invite guests without the hassle of visitor parking problems. There are an array of guest overflow parking locations throughout the complex. Parking is monitored daily to ensure friends and guests continue to enjoy visiting Lake Camelot Villas homeowners without city parking concerns.
However, since the inception of Lake Camelot Villas, there have been various occasions where a select number of homeowners have inquired about renting or purchasing a guest parking spot for regular use. Many ideas have been discussed and explored over the years. Ultimately, any change to guest parking policy has to be voted on and approved by the majority of homeowners.
Throughout Lake Camelot Villas history, such votes have occurred several times. Each time the guest parking change proposed has been voted down by the homeowners. As a result, guest parking locations remain for guests only.
Guest parking rule changes may again be revisited and voted on at some future point. Until then, make sure to avoid the towing of your vehicle by respecting the guest parking location protocol.
If you have a guest staying for longer than 7-10 days, please notify the Association Management Company at 763-241-0838 to avoid being tagged and / or towed.
In the event your vehicle has been towed, here is the number you need to call to retrieve your vehicle:

Cedar Towing:
612-721-6645
Thank you again for your cooperation.
[Parking/Plowing]
Please remember to actively move vehicles around from guest parking areas during plowing. In addition, please make sure your vehicle is not protruding out into the streets.
This is to avoid the need for plowers to return beyond their normal obligation. Any problematic owners creating situations resulting in an additional plow may be assessed for the extra plowing costs.
Below are the plowing guideline specifics:
[1.5 to 6 inches]: 12 hours after snow stops.



[6.1 to 12 inches]: 18 hours after snow stops.



[12+ inches]: May require additional time depending on weather conditions. This includes blowing and drifting snow that accumulates over 12 inches in depth.



Driveways will be plowed prior to 6 a.m. / 5 p.m. if snowfall amount reaches 4 inches. This consists of one plow width down the center of the driveway.



Continuous snow falls within a 24-hour period will be considered one snow event and will follow the snow removal guidelines listed above. Continuous snowfalls beyond 24 hours will be considered two events.



All necessary areas will be marked with plowing markers prior to winter season and will be removed when the snow season is over.


Snow shoveling: Trigger depth 1.5 in
[1.5 to 6 inches]: Completed within 12 hours.



[6.1 to 12 inches]: Completed within 18 hours.



[12+ inches]: may require additional time depending on weather conditions. This includes blowing and drifting snow that accumulates to 12+ inches in-depth.



Walking paths will be completed a day later and we (Mark's) will double check everything while on site, including driveways, sidewalks, mailboxes and fire hydrants etc.



Shoveling Services may require additional time depending on available help. It is getting harder and harder to find reliable help shoveling snow. Please understand we do our best to find as much help as we possibly can to complete all shoveling services per the contract guidelines.
If weather conditions are extremely windy and / or the air temperature is below zero, Mark's lawn service has the option to delay work until more favorable conditions improve.
Items our residents will be responsible for include:
Snow remaining after clean up due to parked cars in the driveway.



Snow removal from patio areas (if residents want patio shoveled.)



Ice accumulation on driveways, sidewalks and garbage aprons caused by melting/freezing snow.